Desde 99EUR
Rafaelhoteles Atocha
Located very close to the AVE Madrid Puerta de Atocha station
Méndez Álvaro, 30 - Madrid · (+34) 914 688 100
In the influential area known as the Golden Triangle of Art, and next to the AVE Madrid Puerta de Atocha station you will find Rafaelhoteles Atocha, a hotel with 245 rooms designed for you to enjoy a pleasant and comfortable stay.
Among the hotel's services, the Restaurant Azafrán stands out due to its Mediterranean style and uninterrupted cooking service. Without a doubt, the terrace garden is one of the biggest attractions and endorsements with more than 1000 m2 of function rooms where you can celebrate any type of professional or personal event.
In addition, the hotel has a gym -free access for guests-, a paid car park in which there is no need to book and electric car charges.
All facilities were renovated in 2018.
Additionally the hotel identifies itself as being RUNNING FRIENDLY
Every Tuesday and Thursday (except August and holiday days) at 7:20 p.m., you can participate for FREE in a Running training trip with a professional MAD Athlete Crew trainer.
A sign of commitment to the world of popular urban races held in Madrid, Rafaelhoteles Atocha is the Official Hotel of the Movistar Madrid Half Marathon, of the NN San Silvestre Vallecana, of the EDP Women's Half Marathon Madrid, of the Central Lechera Asturiana Race of the Woman, Liberty, Metlife among others and Collaborating Hotel of the Zurich Rock 'n' Roll Running Series Madrid.
If you are going to travel to Madrid and are looking for a good hotel, well located and committed to the "running" world, Rafaelhoteles Atocha is your ideal hotel.
Nationale-Nederlanden San Silvestre Vallenaca 2023
Movistar Madrid Medio Maratón 2024
Zurich Rock´n´Roll Running Series Madrid 2024
Services
Enjoy the best accommodation in Madrid
Cardioprotected Space
Pets are not allowed
Business Area
Outside running trainings
Room Service
Restaurant
Cloakroom
Smoke free hotel
Garden terrace
Handicapped rooms
Wifi
Gym
Car Park
ATM
Electric car charger
TESLA car charger
Rental car (car sharing)
Suitcases scale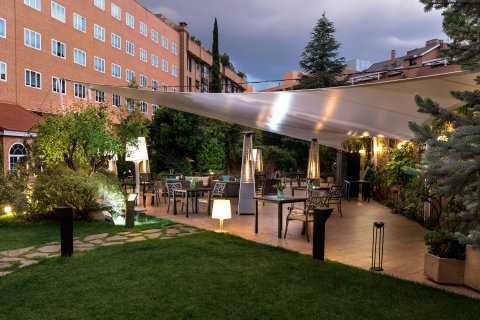 Rooms
Rooms with details designed for your comfort
The hotel has 245 rooms that are specially designed and equipped with all the comforts for you to enjoy a relaxed stay in a warm and pleasant environment. At Rafaelhoteles Atocha we take care of the details so you can feel at home.
The hotel does NOT have any smoking rooms.
View all rooms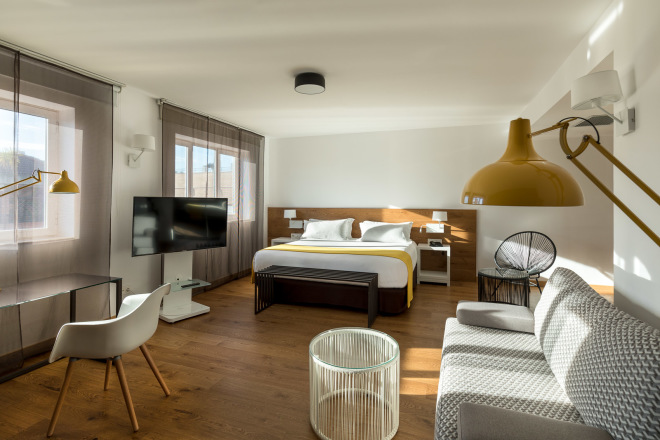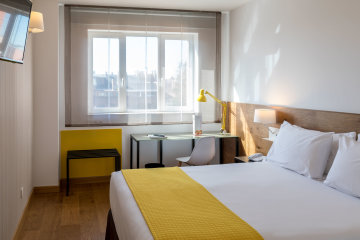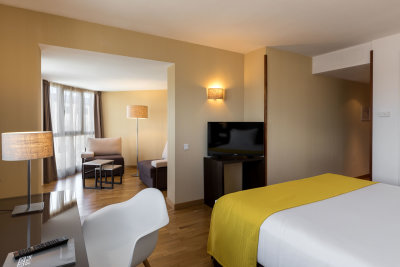 Events and Celebrations
All types of hotel events in Atocha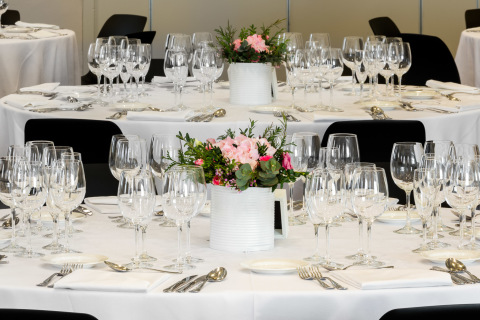 All the different function rooms at Rafaelhoteles Atocha have natural light and can host meetings and celebrations for a wide variety of events based on the number of guests. It features one single function room of 724 m2 that can be divided into 4 rooms of different sizes, as well as smaller rooms up to 66 m2 and a magnificent terrace garden where you can hold the event or celebration you require.